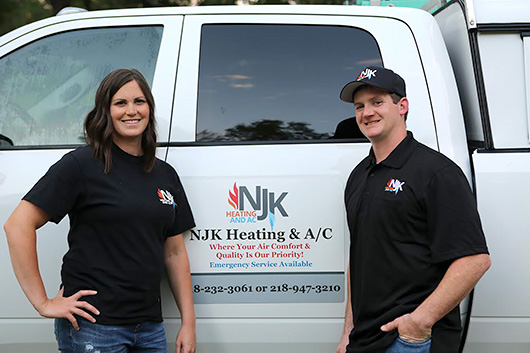 No one wants to feel overheated in the summer or freezing cold in the winter. If your heating or air conditioning system is out, or if you need a brand-new system for your home, NJK Heating & AC is here to help. We've provided heater repair and air conditioning service in Backus, MN for more than 20 years.
Air Conditioning Services
Summers in Central Minnesota can get hot and humid which leaves you feeling hot and uncomfortable. If your AC system is broken or if you need to upgrade to a more efficient and modern unit, NJK Heating & AC is ready to assist you with air conditioning installation and more. Some of the services we offer our customers include:
Air conditioning installation and service
AC repair
Ductless mini-split installation, service, and repair
Indoor air filtration systems/HRV
Heating System Services
Whether you're ready for an efficiency upgrade, or your thermostat is calling for heat but you're not feeling the warmth, then it's time to call your local HVAC professional. Instead of waiting until your pipes freeze or your teeth begin to chatter, call NJK Heating and & AC for emergency services, furnace installation, and more. We'll provide you with a fast and affordable fix to your heating problems. Some of our heating services and products include:
Furnace installation and service
Furnace repair
Heat pump installation and service
Hot water heater installation and service
Tankless hot water heaters
High-efficiency heat pumps
In-Floor heat
Boilers
Plenum Heaters installation and service
Plenum Heater repairs
Dual fuel/off-peak system installation and service
Dual fuel/off-peak system repair
HVAC Services For Any Need
Minnesota is known for being the home of extreme weather—our winters are super cold and our summers are scorching. At NJK Heating & AC, we understand heater and air conditioning systems can unexpectedly fail and make Minnesotans uncomfortable. That's why we offer emergency and after-hour furnace repair and AC repair services. We're able to service and fix most brands of heating and cooling equipment to better service you, including Goodman, Ruud and Trane.
If you are looking for air conditioning service in the Backus, Cass County, Hackensack, Longville, or Pine River, MN area, then give us a call at 218-947-3210 or 218-232-3061 to schedule an appointment for repairs or natural gas conversions today.
Authorized Dealer of the Following Brands