Thinking about switching to a natural gas forced air system? Not only is it more cost-efficient, it's better for the environment! You'll notice cost savings, better comfort and a lower cost of ownership—provided your conversion is performed by trained and experienced techs. NJK Heating & AC is the authority on completing your natural gas conversion.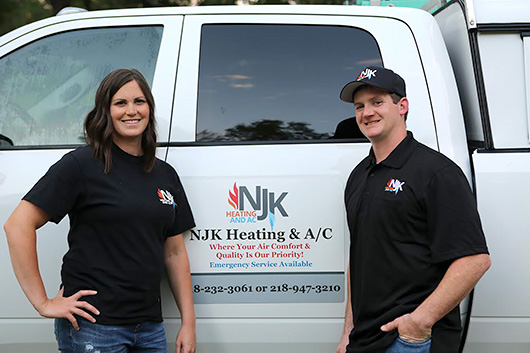 Why Convert to Natural Gas?
There are an abundance of reasons Backus, Cass County, Hackensack, Longville, and Pine River, MN homeowners choose to convert their oil-burning HVAC system to a clean-burning natural gas system. As experts in facilitating that conversion, we've seen firsthand the benefits you'll experience. Here are a few reasons to seriously consider a natural gas conversion for your home:
Lower monthly utility bills throughout the year (heating and cooling)
Lower cost of ownership over the life of the system
Lower fuel costs as compared to oil
Eco-friendly and clean-burning, for sustainable peace of mind
No more need for oil deliveries throughout the winter
No surprise fuel outages when you're relying on your system
Higher home resale value for those with natural gas systems
Experienced Conversion Specialists
The decision to convert to natural gas is a big one, and it requires extensive modifications made to your HVAC system. To get the most out of the conversion, it pays to work with an experienced natural gas plumber in Backus, MN, like NJK Heating & AC. Not only have we performed natural gas conversions in the past, we routinely train our techs on the process. We take all safety precautions and handle complete conversions with total emphasis on the integrity of your home.
Enhance Your Home's HVAC
Ready to make the switch to natural gas? NJK Heating & AC can help! We're the natural gas plumber homeowners throughout Backus, MN trust to make the conversion smooth, affordable and reliable. Contact us today at 218-947-3210 to speak with a qualified professional on gas and air conditioning services.